How does My Pet Credentials Help Pet Owners?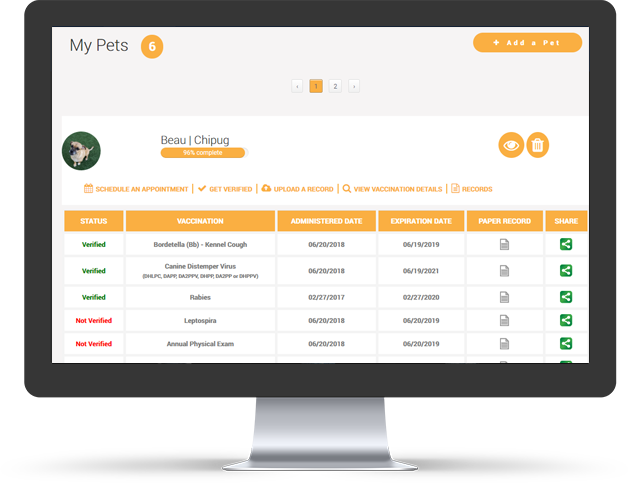 Create your account and confirm your email address.

Next, create a pet profile for each one of your loved ones.

Next, upload your pets' vaccination records, rabies certificate, AKC records or any other medical records to share with your pet salon or any other entity requesting these records.

When your pet's profile is created, our system assigns a unique identifier to your pet's tracking and insurance section. This unique, 9 character, identifier is called an MPC Security Number, i.e. C01-62-A429. This will ensure that if your pet is found by a stranger, animal shelter or veterinarian, your pet will be returned to you within hours by way of our patent pending pet recovery system.

Our system allows you to input your pet's microchip number, rabies tag number or any city or USDA license number to track and find them if your loved one is ever lost.

With an MPC Security Number, you can order one of our pet ID tags. Either a pet ID tag with your pets name and MPC Security Number engraved on the tag or an MPC QR pet ID tag, which has the MPC Security Number embedded into a QR code.

Authorize your pet salon and veterinarian.

By authorizing your pet salon, you will be able to schedule appointments such as grooming, boarding and daycare with your pet salon directly from your smart phone.

By authorizing your veterinarian, your veterinarian will be able to upload and verify your pets' vaccination records.

Your pet salon and veterinarian will have 24/7 access to your pet's vaccination records and profile, saving you, your salon and your veterinarian valuable time and eliminating the need to fax, email or hand-deliver records. Anytime your veterinarian verifies your pet's vaccinations, you and your authorized salon will receive a notification with a copy of the verified records.